Wardell Stephen "Steph" Curry II is an  American professional basketball player for the Golden State Warriors of the National Basketball Association (NBA).
Curry was born on born March 14, 1988 (33 years), in Akron, Ohio, United States Of America. 
A seven-time NBA All-Star, Curry has been named the NBA Most Valuable Player (MVP) twice and has won three NBA championships with the Warriors.
PROFESSIONAL CAREER
On June 25, 2009, Curry was selected with the seventh overall pick in the 2009 NBA draft by the Golden State Warriors.  He appeared in 80 games during the 2009–10 season, averaging 17.5 points, 4.5 rebounds, 5.9 assists, and 1.90 steals in 36.2 minutes.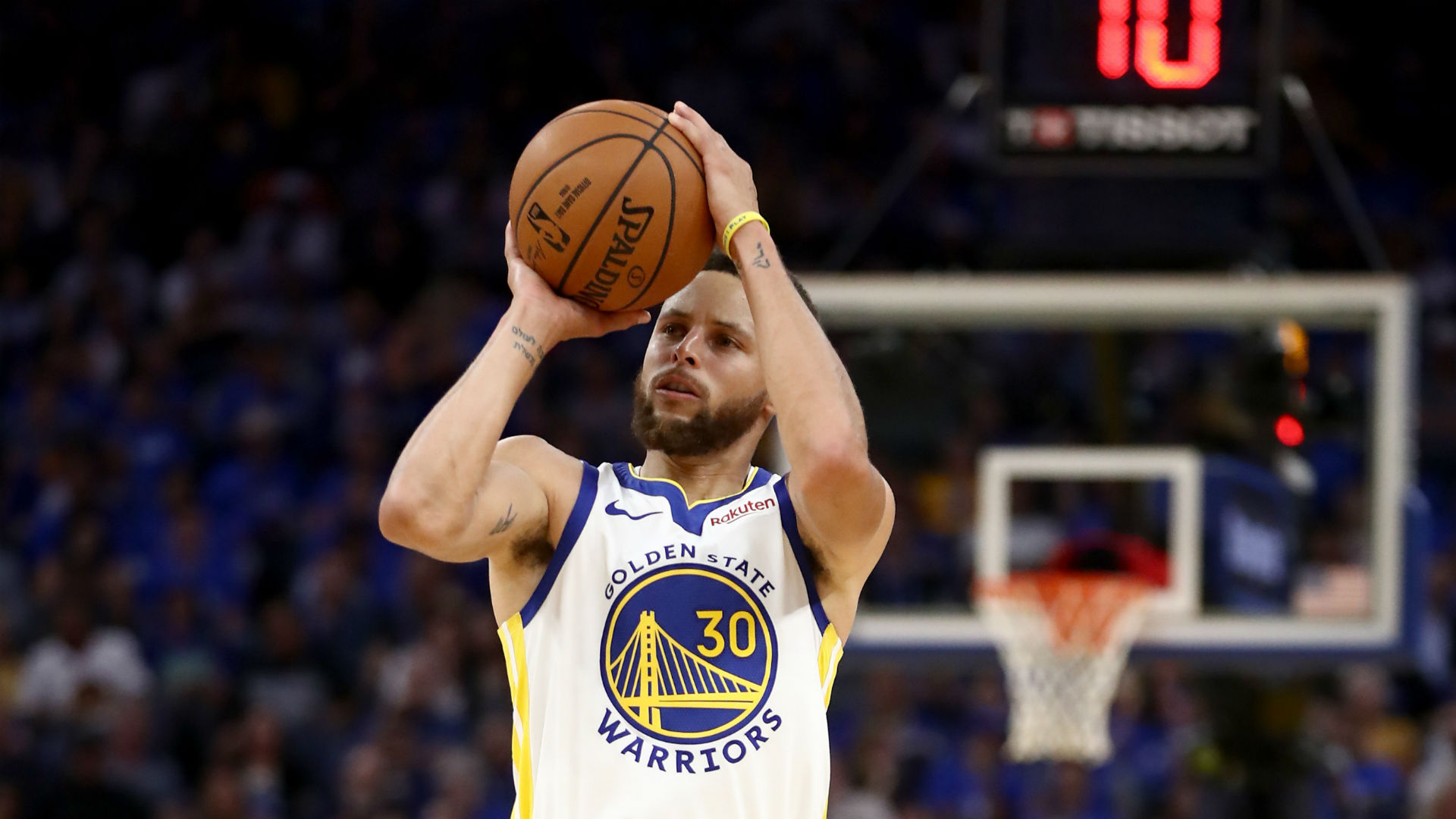 Curry became the first Warriors player since Jason Richardson in 2001–02 to earn All-Rookie First Team honors.
He became just the sixth rookie in NBA history to post a 35-point, 10-assist, 10-rebound game when he registered his first career triple-double with 36 points, 13 assists, and 10 rebounds against Los Angeles Clippers on February 10. Curry finished his rookie season with 166 three-pointers, which were the most ever by a rookie in NBA history.
In May 2011, curry was named the recipient of the NBA Sportsmanship Award and underwent surgery on his right ankle. In the 2011-2012 season, he missed 40 games because of right ankle and foot injuries.
At the start of the 2012/13 season, Curry signed a contract extension with the State Warriors worth $44 million. Over the course of the year, Curry and backcourt teammate Klay Thompson gained a reputation for their perimeter scoring, earning them the nickname the "Splash Brothers". He established a new NBA single-season three-point record with 272 three-pointers, eclipsing the previous mark set by Ray Allen (269 in 2005–06), doing so on 53 fewer attempts than Allen did with Seattle.
In 2013–14, Curry appeared in 78 games, averaging career highs of 24.0 points (seventh in the NBA) and 8.5 assists (fifth) to go with 4.3 rebounds and 1.63 steals, becoming the first player in Warriors history to average 24 points and eight assists in a single season (ninth player in NBA history).
At the start of the 2014/15 season, the Warriors hired former NBA player and general manager Steve Kerr as their new head coach. Kerr implemented a fast pace during the game giving, Curry more space to shoot. On February 4, Curry scored a season-high 51 points in a win over the Dallas Mavericks. The Warriors finished the year with 67 wins and Curry was voted the NBA Most Valuable Player after posting averages of 23.8 points, 7.7 assists, and 2 steals per game. Over the course of the season, he sat out 17 fourth quarters due to Golden State's wide margins of victory.
To start the 2015–16 season, Curry became the first player since Michael Jordan in 1989–90 to score 118 points in his team's first three games, including a season-high 53 points against the New Orleans Pelicans in the third game.  On April 7, Curry scored 27 points to help the Warriors become the second team in NBA history to win 70 games in a season with a 112–101 win over the San Antonio Spurs.
On April 13, 2016, Curry achieved another shooting milestone, becoming the first player to make 400 three-pointers in a season by knocking down 10 from long range on his way to 46 points and 402 total three-pointers.  Curry was named the league's first-ever unanimous MVP, becoming the 11th player in NBA history to win the award in consecutive seasons and the first guard to do so since Steve Nash in 2004–05 and 2005–06.
Curry helped the Warriors return to the NBA Finals in 2017, 2018, and 2019, winning back-to-back titles in 2017 and 2018, before being defeated by the Toronto Raptors in 2019.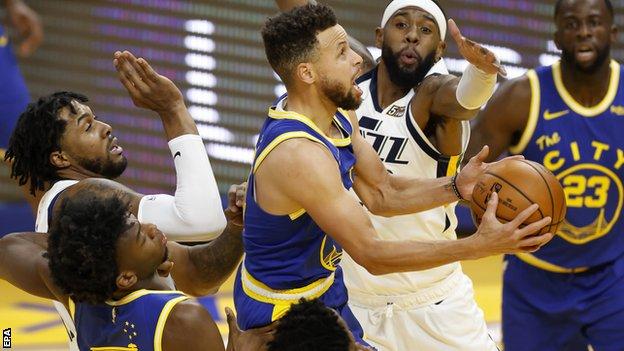 On Christmas Day, December 25, 2020, Curry had 19 points against the Milwaukee Bucks, thus moving past Rick Barry for second place on the Warriors all-time points list.  On January 4, 2021, he was named the Player of the Week for the Western Conference.
On January 23, 2021, in a game against the Utah Jazz, Curry hit five three-pointers, moving his career total up to 2,562, passing Miller to go up to second in all-time career three-pointers made, trailing only Allen.
 At the 2021 All-Star Game, he won his second Three-Point Contest after making his last shot in the final round to edge Mike Conley Jr. 28–27.
NATIONAL TEAM CAREER
Curry's first experience with the United States national team came at the 2007 FIBA Under-19 World Championship, where he helped Team USA capture the silver medal. In 2010, he was selected to the senior squad, playing limited minutes as the United States won the gold medal in an undefeated tournament. In 2014, he took on a larger role with the team, helping them to another undefeated tournament at the 2014 World Cup and scoring 10 points in the final game.
 On June 6, 2016, Curry withdrew from consideration for the 2016 Olympics in Brazil, citing ankle and knee ailments as the major reason behind the decision.
FAMILY LIFE:  WIFE, CHILDREN, FAITH
On July 30, 2011, Curry married a longtime girlfriend and Toronto native Ayesha Alexander in Charlotte. Together, they have three children, daughters Riley (b. 2012) and Ryan (b. 2015), and son Canon (b. 2018). In July 2019, Curry paid $31 million for a home in Atherton, California.
 Curry's younger brother, Seth, is also a professional basketball player,  and his younger sister, Sydel, played volleyball at Elon University.
Curry has been outspoken about his Christian faith. He spoke about his faith during his MVP speech by saying, "People should know who I represent and why I am who I am, and that's because of my Lord and Savior."  Curry suffers from keratoconus and wears contact lenses to correct his vision.
Curry is an avid golfer; he played golf in high school, and frequently plays golf with former teammate Andre Iguodala. A 5-handicap golfer, Curry participates in celebrity golf tournaments and has played golf alongside Former United States President, Barack Obama.
Curry is also a fan of the British  Premier League soccer club Chelsea FC.
Curry is an investor and the leading brand ambassador for Palm, which is a small startup based in San Francisco which licenses the Palm name from TCL Corporation. He is also involved with designing and testing accessories and even helped to name the device.
FILM PRODUCTION AND YOUTUBE CHANNEL
Curry is also the executive producer of the film Emanuel, scheduled for US theatrical release in select theaters on June 17, 2019. The film focuses on the responses of family members of victims of the 2015 Charleston church shooting – "In the face of adversity, in the face of tragedy, how can I get through it?" Curry said.
Beginning in 2019, Curry is both an executive producer and resident golf pro on the American sports reality competition television series Holey Moley.
Curry will executive produce an animated revival of the 1970s sitcom Good Times with its original executive producer, Norman Lear, and Family Guy creator Seth MacFarlane. The animated series was greenlit by Netflix in 2020.
On June 24, 2020, Curry released a trailer for his new show on his YouTube channel, which is called Ultimate Home Championships, a show featuring people such as DeAndre Jordan, Ronda Rousey, and Kristopher London where contestants compete in wacky at-home challenges using things at their home. In 2020, the company signed a deal with Amazon's Audible.
NET WORTH: CARS
As of 2021, Stephen Curry's net worth is $130 million.
Athletes love their fancy and insanely expensive cars, and curry has not been left behind. Some of the cars in his garage are:
Cadillac Escalade ESV
Infiniti Q50
Kia Sorento
Mercedes Benz G55
Porsche 911 GT3 RS

Porsche 911

Porsche Panamera Turbo S
Range Rover Sport LWB
Tesla Model X 90D
CAREER ROUND-UP
3× NBA champion: 2015, 2017, 2018
2× NBA Most Valuable Player: 2015, 2016
7× NBA All-Star: 2014, 2015, 2016, 2017, 2018, 2019, 2021
6× All-NBA selection:

3× First team: 2015, 2016, 2019
2× Second team: 2014, 2017
Third team: 2018

All-Rookie First Team: 2010
NBA scoring leader: 2016
5× NBA three-point field goals leader: 2013, 2014, 2015, 2016, 2017
4× NBA free-throw percentage leader: 2011, 2015, 2016, 2018
NBA steals leader: 2016