Joel Hans Embiid is a Cameroonian professional basketball player for the Philadelphia 76ers of the National Basketball Association. After one year of college basketball with the Kansas Jayhawks, he was drafted with the third overall pick in the 2014 NBA draft by the 76ers.
  Joel's Early life and Age
https://cradle-info.com/2021/03/12/who-is-cam-newton-bio-age-early-life-career-family-and-networth/
Embiid was born on 16th March 1994 in Yaounde, Cameroon, to military officer Thomas Embiid and his wife, Christine. As at 2021, Joel is aged 26 with a pretty long basketball career left in him. He played Volleyball and Soccer in childhood and originally planned to play professional volleyball in Europe, but started playing basketball at age 15, modeling his game after NBAHall of Fame center, Hakeem Olajuwon.  Embiid was discovered at a basketball camp by Luc Mbah a Moute, a fellow native of Yaounde and an NBA player. With Mbah a Moute as his mentor, Embiid moved to the United States at age 16 to devote himself to becoming a professional basketball player.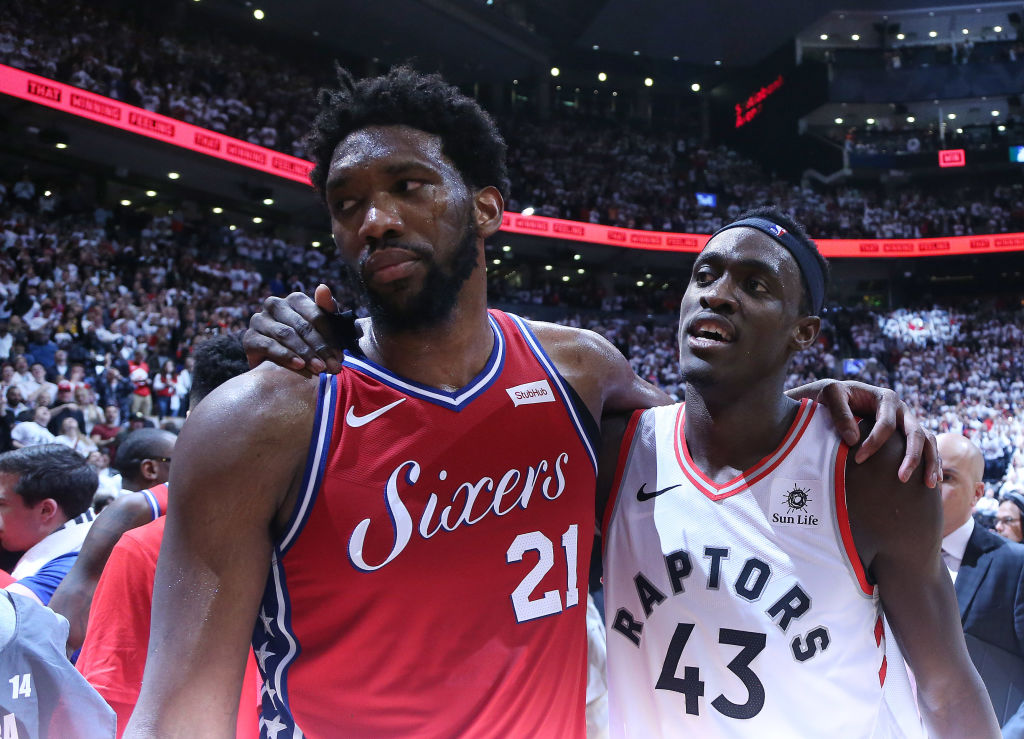 Embiid enrolled at Montverde Academy, Mbah a Moute's alma mater, but transferred after his first year due to a lack of playing time. He then attended The Rock School, a Christian academy, in Gainsville, Florida. As a senior, he led  their team to a 33–4 record and state championship, averaging 13.0 points, 9.7 rebounds and 1.9 blocks per game.
Embiid was a Five-star recruit according to Rivals.com and committed to Kansas in November 2012.
 

JOEL EMBIID CAREER
College career
Embiid attended the University of Kansas for one year. On 13 February 2014, there he was named one of the 30 finalists for the Naismith College Player of the Year. In 2013–14, he played 28 games, averaging 11.2 points, 8.1 rebounds, 1.4 assists and 2.6 blocks in 23.1 minutes per game. He had over 15 points in seven games and over 5 blocks in six games. He subsequently earned Big 12 Defensive Player of the Year honors and was named second-team All-Big 12.
Embiid suffered a stress fracture in his back in March 2014. He missed that year's Big 12 Tournament and NCAA Tournament. Kansas lost in the third round of the NCAA Tournament.
Professional Career
On 9 April 2014, Embiid declared for the 2014 NBA Draft, forgoing his final three years of college eligibility. On 20 June 2014, he underwent surgery on a broken navicular bone in his right foot, and was subsequently ruled out for four to six months. Six days later, he was selected with the third overall pick by the Philadelphia 76ers. That selection made him the third Cameroonian-born NBA player, as well as the highest selected player from Cameroon. 
Joel Embiid has played for the 76ers since then, rising to become one of their best players.
International Career
Embiid is eligible to compete for Cameroon National Basketball Team. On 7 February 2017, Embiid was named to the preliminary team to compete in the 2017 FIBA afrobasket, in the Republic of Congo, with the group qualifier taking place in March, during the NBA regular season. FellowCameroon-born NBA player Luc Mbah a Moute has voiced his opinion on Embiid representing his country saying, "It would be great for our team, our country and Joel".  Embiid ultimately did not compete for Cameroon at AfroBasket 2017.
Is Joel Embiid married?
There are currently no records of his marriage but Joel is dating Anne de Paula, a Brazilian model, best known for winning 'Sports Illustrated' magazine's 'Swimsuit Model Search' competition in 2017.
The couple welcomed their first child, a boy in 2020.
Personal Life
His younger brother, Arthur, died on 16 October 2014 in Cameroon in a car crash. He also has a younger sister named Muriel. In addition to English, Embiid is fluent in French and Basaa. Embiid has been in a relationship with Brazilian model Anne de Paula since 2018. In September 2020, they welcomed their first child, a son.
Embiid is known for his playful personality and social media presence, particularly for his trolling. He is a teetotaler.
In March 2021, Embiid said that he would donate $100,000, his 2021 NBA All-Star Game winnings, to various homeless shelter organizations in Philadelphia. After his announcement, the Philadelphia 76ers said that they would also donate $100,000 to the same organizations.
 

Net Worth
Embiid has a net worth of $35 million. The two time NBA All-Star is 48th in the Forbes list of the World's highest-paid athletes of 2019.